The traditional event at the beginning of the year, "Sendai Hatsu-uri"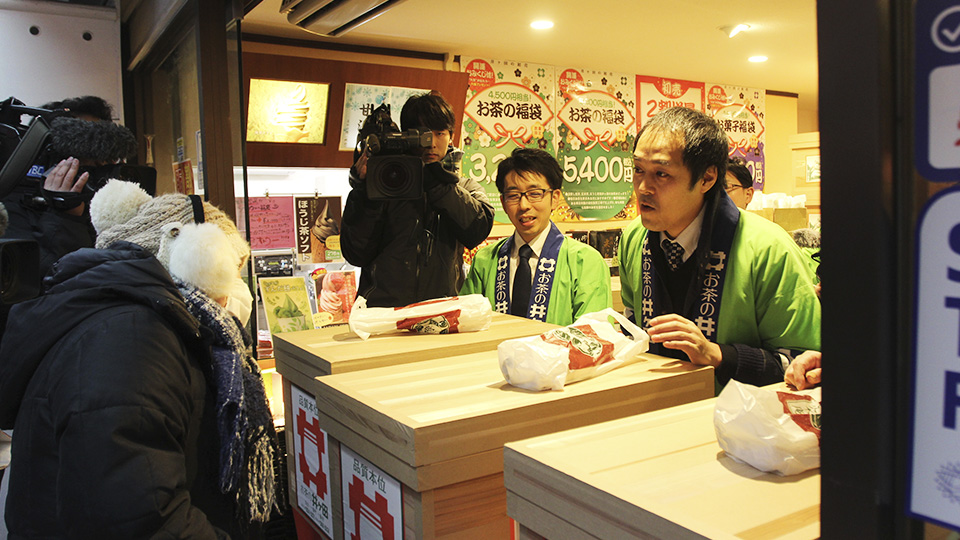 Throughout the world there are characteristic sales depending on the country. For example, in the United States, they have a large-scaled sale starting on the day following Thanksgiving in November. In Australia, there's a sale which starts on the day after Christmas in December. And let's not forget our annual event of "hatsu-uri" which takes place during the New Year in Japan.
Traditionally in Japan, January 2nd is supposed to be a lucky day to do things for the first time in the year, which is called "kotohajime." For example, people who practice calligraphy have "kakizome," first writing, and those who play any musical instrument have "hikizome," first playing, and stores have "hatsuni," first shipping and "hatsu-uri", first sale. "Sendai Hatsu-uri," which takes place on January 2nd is inspired by this notion.
"Sendai Hatsu-uri" has a long history. In "Sendai Nenchu-gyoji," a book published in the Bunka and Bunsei eras (1804 ―1824), which is in the period of domain duties, there's a description, "From the early morning of the 2nd , a knock at the door; first sale and first buy." You can see that the New Year's tradition "Sendai Hatsu-uri" has been inherited by the department stores and specialized shops in the shopping streets of Sendai for more than 200 years and that it's one of the biggest first sales of the New Year's getting attention both in and outside of Japan.
From the early hours on January 2nd, in the shopping streets of downtown there are a great number of shoppers ready to buy. There are Japanese drum performances, lion dances and free rice-drink service. All of this entertainment create the hustle and bustle at a real festival. The shoppers' targets are lucky bags which contain goods more valuable than the price, lucky tea boxes, and gift certificates with premium rates. The goods sold at the Sendai Hatsu-uri have been called the best in Japan, and it has been recognized by the Fair Trade Commission as being especially unique for how the shops within the Sendai domain have based the event according to the traditional customs.
Unlike an ordinary sale, "Sendai Hatsu-uri" is a traditional event with both sellers and shoppers praying for well-being for the year.